Black Friday Twitter Project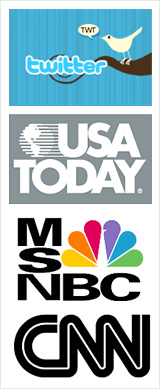 Intrigued by Web phenom Twitter, StorefrontBacktalk in November 2008 set out to see how well Twitter could function as a near-realtime news alert system. We decided to test it using the Web traffic focus of Black Friday and Cyber Monday.
Partnering with more than half a dozen Web tracking services, including Gomez, Keynote, Pingdom, Sitemorse, Hitwise, Chase Paymentech and Brulant, StorefrontBacktalk's Twitter alerts delivered the first reports of uptime hiccups from Walmart, Nordstrom, Sears, Barnes and Noble, Saks, Overstock, Amazon, Kohls, Target, Wegmans, Gap, Costco, Kmart, Bloomingdales, Staples, Jcrew, Victoria's Secret, Williams-Sonoma and Home Depot, among many others.
The Twitter alerts didn't go unnoticed, with front page coverage in USA Today as well stories in CNN, MSNBC, among others:
StorefrontBacktalk Black Friday Project Coverage
Click on the bulleted links below to read those stories.
StorefrontBacktalk.com will continue to use our Twitter feed to report on breaking news stories throughout the week, often hours—and sometimes more than a day—before we can finish reporting, editing and posting a full-blown story on it. Throughout the year, we'll also be using the feed for various special retail tech and E-Commerce events around the globe. Hope to have you on board for some!
---